Asian Pacific Forum 2011
Date
October 12-13, 2011
Venue
W Taipei
10 Zhongxiao East Road Sec. 5, Xinyi District
Taipei, 110 Taiwan
TEL: +886-2-7703-8888
FAX: +886-2-7703-8899
URL: http://www.wtaipei.com
Sponsors

Japan Economic Foundation(JEF)


Jiji Press Bldg. 11F, 5-15-8 Ginza
Chuo-ku, Tokyo 104-0061
Japan
TEL: +81(3)5565-4824
FAX: +81(3)5565-4828
URL: http://www.jef.or.jp


Taiwan Institute of Economic Research (TIER)


7F, No.16-8, Dehuei Street
Jhongshan District, Taipei 10461
Taiwan
TEL: +886-2-2586-5000
FAX: +886-2-2586-8855
URL: http://english.tier.org.tw/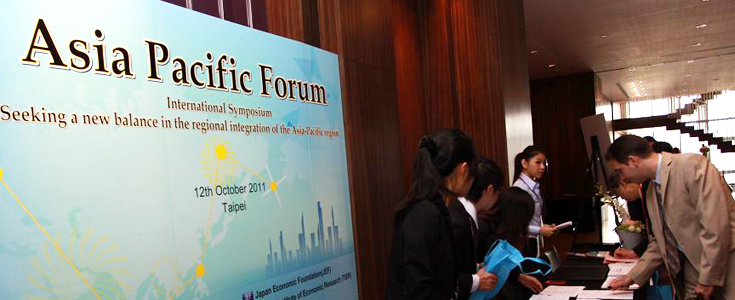 Asia-Pacific Forum 2011More Pictures
Topics"Seeking the optimum future shape for regional economic integration in the Asia-Pacific region"
Session 1 : Role of regional integration in ensuring stable supply of resources (energy, minerals, food, etc.), parts and industrial materials- How can regional integration contribute to ensuring stable supply of resources, including the issue to recover the parts supply chain disrupted by the Great East Japan Earthquake?
Presenters-Dr. Biswajit DHAR, Director-General, Research and Information System for Developing Countries (RIS)
Trade Integration and Growth of Regional Value Chains
-Prof. Shujiro URATA, Professor of International Economics, Graduate School of Asia-Pacific Studies, Waseda University
Role of Regional Integration in Ensuring Stable Supply of Parts and Industrial Materials
-Prof. Gary HAWKE, Emeritus Professor, Victoria University of Wellington
Seeking a new balance in the regional integration of the Asia-Pacific region (paper)
Seeking a new balance in the regional integration of the Asia-Pacific region
-Dr. Thomas G. AQUINO, Senior Fellow, Center for Research and Communications, University of Asia and the Pacific (Former Senior Undersecretary, Department of Trade and Industry of the Republic of Philippines)
Presentation(paper)
Presentation
-Dr. Mignonne Man-jung CHAN, Executive Director, Chinese Taipei APEC Study Center, Taiwan Institute of Economic Research (TIER)
SUPPLY CHAIN CONNECTIVITY & DISASTERS RESILIENCE ROLE OF REGIONAL INTEGRATION
Session 2: Impact of new FTAs and possible FTAs on the ASEAN economic integration and other Asian FTAs- Impact of ECFA, Korea-EU FTA, TPP, etc. on the other Asian FTAs
Part1: Current status and Significance, Reactions of the Asian countries
Presenters-Mr. J. Jayasiri, Senior Director, Economic and Trade Relations, Ministry of International Trade and Industry of Malaysia
JEF-TIER International Symposium
-Dr. Chulsu KIM, Chairman, Institute for Trade & Investment (ITI), Lee International (Former Minister of Trade, Industry and Energy of the Republic of Korea)
New Opportunities for Advancing Regional Economic Integration in East Asia
-Prof. Simon SC TAY Chairman, Singapore Institute of International Affairs (SIIA)
Part2: Impact and Prospect
Presenters-Dr. Andrew ELEK, Visiting Professor, Australian National University
Thinking outside the negotiating square
-Prof. ZHANG Yunling, Director, Chinese Academy of Social Sciences
Moving toward a Greater Market Integration
-Mr. Noboru HATAKEYAMA, Chairman and CEO, Japan Economic Foundation (JEF) (Former Vice-Minister for International Affairs, Ministry of International Trade and Industry of Japan)
Intervention in session 2
-Dr. Hank LIM, Senior Research Fellow, Singapore Institute of International Affairs (SIIA)
IMPACT OF NEW FTAs AND POSSIBLE FTAs ON THE ASEAN ECONOMIC INTEGRATION AND OTHER ASIAN FTAs
IMPACT OF NEW FTAs AND POSSIBLE FTAs ON THE ASEAN ECONOMIC INTEGRATION AND OTHER ASIAN FTAs(Word)
-Dr. Ping-Kun CHIANG, Chairman, Straits Exchange Foundation (SEF)
A New Era in Cross-Strait Relations
ParticipantsList
SummarySummary (English)Summary (Japanese)
Chairman's SpeechOpening Remarks by Mr. Hatakeyama (October 12, 2011@JEF-TIER International Symposium)
Your Excellency Vice President Siew, Honorable Economic Vice Minister Liang, distinguished guests, ladies and gentlemen. As a host of the 10th International Symposium, I would like to heartily welcome all of you here.
I have long looked forward to hosting this symposium in Taiwan. It is a great pleasure for me to have the chance on this momentous 10th occasion on the following day of the 100th anniversary of the Chinese Xinhai Revolution. In organizing this symposium, we received full support from the Taiwan Institute of Economic Research and other related organizations. I would like to extend my deep gratitude to everyone in the authorities who made this possible, in particular to Dr. Hong and Dr. Chan, President and Executive Director of TIER for your kind support.
In addition, I would like to take this opportunity to express our sincere appreciation to the people of Taiwan and the Taiwanese government for your support given to Japan in the wake of the Great East Japan Earthquake on March 11. As you are aware, this calamity with an unprecedented 9.0 magnitude brought unparalleled devastation: So far, around 20,000 people have been found dead or remain missing and property damage caused by the disaster has reached 17 trillion yen .
As of October 5th, Japan received tremendous physical, material and financial support from 163 countries, regions and organizations throughout the world. In particular, Taiwan has provided us a significant amount of material and financial support, including the rescue team immediately dispatched on March 14. This is one of the largest aids amassed for the disaster relief along with America's "Operation Tomodachi" or the "Operation Friends". I would like to reiterate my gratitude to everyone in Taiwan.
Looking at the current world economy, my personal view is that this recession has been continuing since the crisis due to sub-prime loan back in 2007. Apparent economic recoveries in many countries of the world, including Japan, may be just thanks to stimulus packages implemented by them and if the effects of these packages expire, then recoveries may also expire.
Therefore many governments in the world had better continue to stimulate their economies. There are two ways for governments to do so. The first one is to pour money into economies and the second one is to deregulate economies without using money.
Let me start from the first one to use money. This is what many governments have done thus far to cope with this crisis. As the result of this policy, however, many governments in the world have increasingly become poor. Therefore many of them cannot afford to spend fiscal money any longer. Only what they can do in this respect is to rely on their central banks to relax money supply which many countries in this region are doing.
The second way is to deregulate economic activities, trying to rely upon private economies. There are some remaining regulations inheriting just the past vested interests even in the developed economies. If those regulations are lifted, economic activities will increase. For example, even today, it is said Japanese society is not ready to accept robotics in its laws and ordinances. If they are lifted, then the demands for robots will increase tremendously, thereby raising the productivity in aging society. I think it would be difficult to implement deregulation alone. But if it is conducted in the context of FTA it will be a lot easier.
The first meeting of this symposium was held in Singapore in 2003, - Since then, each member country took its turn hosting the event under cooperation with domestic think-tanks and universities in the cities of Bangkok, Manila, Seoul, Jakarta, Beijing, Kuala Lumpur, New Deli and Wellington. As I mentioned earlier, this symposium in Taipei marks the 10th such occasion.
During those eight years, there have been or will be several major developments in terms of FTAs in Asia.
The first is the integration of ASEAN, due to take place in 2015. People around the world are watching developments carefully to see whether integration will be achieved in 2015 as scheduled.
The second major step forward was the start of joint governmental studies at senior official level concerning rules of origin, tariff classifications, custom procedures and economic cooperation within the EAFTA and the CEPEA. As part of these studies, working groups have been established for each FTA.
Third was the summit agreement reached last May to conclude a feasibility study on an FTA between China, Japan and South Korea by the end of this year.
The fourth major step is the TPP, being negotiated last week in Hawaii by nine countries, including the United States and several ASEAN countries.
Fifth is the ECFA, an FTA between China and Taiwan.
And sixth is the major change in the policy of South Korea toward FTAs.
I believe the best way to cope with this long recession without using money is to make use of these FTAs or regional integrations as much as possible
The main theme this time is "Seeking a new balance in Asia-Pacific the regional integration of Asia-Pacific region." In concrete terms, we would like to discuss two topics with participant specialists from major countries in the Asia-Pacific region:
1) The role which regional integrations play in securing energy, mineral and foodstuff resources, as well as industrial parts and materials.
2) The impact, both positive and negative, which newly or soon-to-be concluded FTAs including the ECFA (or China-Taiwan FTA), South Korea-EU FTA and TPP may bring on the existing FTAs in the Asian region.
Through exchange of views on this occasion, I truly hope that all participants go on to share with the world what we have learned here.
Thank you for your attention.
2016. NOVEMBER 2015. NOVEMBER 2014. NOVEMBER 2013. NOVEMBER 2013. FEBRUARY 2011. OCTOBER 2010. OCTOBER 2009. SEPTEMBER 2008. OCTOBER 2007. NOVEMBER 2006. NOVEMBER 2005. OCTOBER 2005. FEBRUARY 2004. JANUARY 2003. MARCH