Asia Pacific Forum 2016
Date
November 24 - 25, 2016
Venue
Pullman Hanoi, Vietnam
Co-hosted
Japan Economic Foundation (JEF)
Central Institute for Economic Management (CIEM)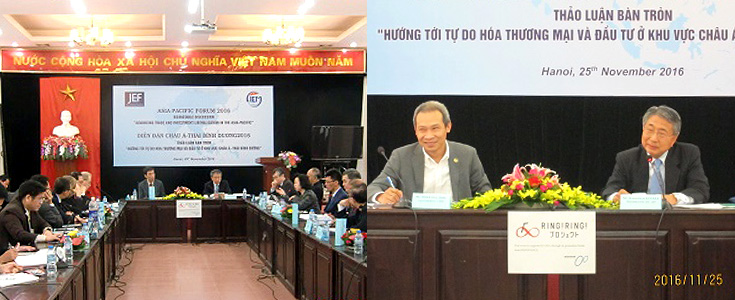 Asia-Pacific Forum 2016More Pictures
Program



Advancing trade and investment liberalization in the Asia-Pacific
The Asia Pacific region boasts high dynamism in terms of regional economic integration. A range of free trade agreements have been negotiated, concluded and implemented at plurilateral, regional or bilateral basis. Most notable attempts so far have been the Trans Pacific Partnership (TPP) and the Regional Comprehensive Economic Partnership (RCEP). Despite differences and potentially competing nature, still, these agreements arguably represent intermediate steps towards wider integration in the Asia Pacific region. Once achieved, Asia-Pacific-wide trade and investment liberalization will bring about more economic opportunities and benefits for economies in the region.
With the above viewpoints, recent difficulties with the TPP ratification and RCEP negotiation can hardly deny the fundamental importance of economic integration in the Asia Pacific. Instead, such difficulties call for deepening efforts to build consensus and boldly address remaining obstacles to regional economic integration. The Asia Pacific Forum in Hanoi will contribute to the policy discussion regarding how to speed up liberalization of trade and investment in the region.
Welcome and Opening RemarksDr. NGUYEN Dinh Cung, President, CIEM
Speech
Mr. Kazumasa KUSAKA, Chairman and CEO, JEF
Speech
Session 1: Roadmap for Asia Pacific economic integration: issues for considerationKey discussion points* What do you think about the global economic outlook against the background of surging protectionism and inward looking nationalism such as Brexit?
* What do you think would be Asia's responsibility for achieving global economic growth?
* What is the current state of major FTAs in the Asia Pacific? Is there significant room for new (even more comprehensive) FTAs?
* New justifications for pro-development nature of new-generation FTAs?
* Prospect of currently pending FTAs (such as TPP, RCEP)
* What are the key factors for effectively harmonizing current FTAs into a more effective integration roadmap for Asia Pacific?
ModeratorMr. Naoyuki HARAOKA, Executive Managing Director, JEF
SpeakersDr. VO Tri Thanh, Senior Researcher, CIEM, Vietnam
Presentation
Ambassador Murray McLEAN AO, Chairman, Dunmore McLean Pty Ltd., Australia
Talking Point
Professor ZHANG Yunling, Professor, Academy Member and Director of International Studies, Chinese Academy of Social Sciences (CASS)
Presentation
Professor Yukiko FUKAGAWA, Professor, School of Political Science and Economics, Waseda University, Japan
Presentation
Professor Gary HAWKE, Emeritus Professor, Victoria University of Wellington, New Zealand
Presentation
Session 2: New issues of regional trade and investment liberalizationKey discussion points* Connectivity enhancement: framework, steps, and contemporary challenges
* Participation in GVCs (global value chain): any risks from the web of FTAs in Asia Pacific
* Phasing out TBT (technical barriers to trade) and SPS (sanitary and phytosanitary measures): room for meaningful progress
* Dispute settlement in FTAs: too formalistic, or too asymmetrically restrictive?
ModeratorProfessor Josef T. YAP, Professorial Lecturer, University of the Philippines School of Economics
SpeakersDr. Lurong CHEN, Economist, Economic Research Institute for ASEAN and East Asia (ERIA)
Presentation
Dr. AHN Choong-Yong, Chairman, Korea Commission for Corporate Partnership (KCCP)
Talking Point
Datuk P. RAVIDRAN Palaniappan, Senior Director, ASEAN Economic Cooperation Division, Ministry of International Trade and Industry (MITI) of Malaysia
Presentation
Professor Simon SC TAY, Chairman, Singapore Institute of International Affairs (SIIA)
Talking Point
Dr. Chedtha INTARAVITAK, Research Fellow, Thailand Development Research Institute (TDRI)
Presentation
Session 3: Linking trade with domestic policy reforms: building consensus for coherent move toward economic growthKey discussion points* What are the required domestic reforms for effective participation in new-generation FTAs in the Asia Pacific to achieve growth strategy?
* Improvement of business environment to leverage the benefits from integration
* Building consensus: from talks to actions
* Measures to establish and/or improve G2B and B2B linkages
ModeratorDr. VO Tri Thanh, Senior Researcher, CIEM, Vietnam
SpeakersDr. Sachin CHATURVEDI, Director General, Research and Information System for Developing Countries (RIS), India
Presentation
Dr. Yose Rizal DAMURI, Head of the Department of Economics, Center for Strategic and International Studies (CSIS), Indonesia
Presentation
U SOE Wing, Executive Director, Renaissance Institute, Myanmar
Presentation
Professor Josef T. YAP, Professorial Lecturer, University of the Philippines School of Economics
Presentation
Dr. Mignonne Man-jung CHAN, Chair and CEO, Out-of-the-Box Consultancy, Taiwan
Presentation
Closing RemarksDr. NGUYEN Dinh Cung, President, CIEM
Mr. Kazumasa KUSAKA, Chairman and CEO, JEF
ParticipantsList
SummarySummary (in English)Summary (in Japanese)
2016. NOVEMBER 2015. NOVEMBER 2014. NOVEMBER 2013. NOVEMBER 2013. FEBRUARY 2011. OCTOBER 2010. OCTOBER 2009. SEPTEMBER 2008. OCTOBER 2007. NOVEMBER 2006. NOVEMBER 2005. OCTOBER 2005. FEBRUARY 2004. JANUARY 2003. MARCH