2015 CJK Cooperation Dialogue
Overview
Date
Wednesday, September 3, 2015
Venue
South Lake Hotel, Changchun, China
Sponsors
Japan Economic Foundation (JEF)
China Foreign Affairs University (CFAU)
East Asia Foundation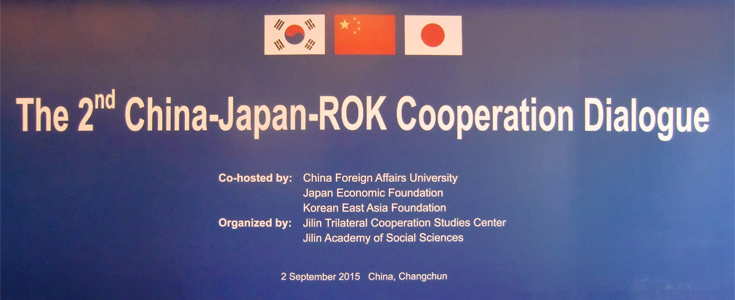 CJK Cooperation Dialogue 2015More Pictures
TopicsThe 2nd CJK Cooperation Dialogue
Opening remarksJIANG Ruiping, Vice President, China Foreign Affairs University
KUSAKA Kazumasa, Chairman and CEO, Japan Economic Foundation (JEF)
GONG Ro-Myung, Chairman, East Asia Foundation / Former Minister of Foreign Affairs
[Session 1] Economic Cooperation
What is the prospect of TPP conclusion? Are RCEP and TPP compatible with or even complementary to each other? What can CJK do to lead these two trade blocs to contribute to building an East Asian economic community?
How can CJK enhance their domestic structural reform to ensure the sustainable economic growth, considering the CJK FTA to be pushed forward?
How can CJK contribute to the sustainability of the economic growth in East Asia? There are many constraints caused by such factors as insufficient infrastructure investment and insufficient protection of intellectual property rights, energy and environment on achieving the sustainable economic growth in East Asia. Is it possible for CJK to coordinate in overcoming those constraints?
ModeratorKUSAKA Kazumasa, Chairman and CEO, Japan Economic Foundation (JEF)
PresentationsAHN Choong-yong, Chairman, Korean Commission on Corporate Partnership / Distinguished Professor of Economics, Chung-Ang University
FUKAGAWA Yukiko, Professor, School of Political Science and Economics, Waseda University / Visiting Fellow, Yonsei University
Presentation
JIANG Ruiping, Vice President, China Foreign Affairs University
AHN Se Young, Chairman, National Research Council for Economics, Humanities and Social Sciences / Professor, GSIS, Sogang University
KIMURA Fukunari, Professor, Faculty of Economics, Keio University / Chief Economist, Economic Research Institute for ASEAN and East Asia
Presentation
LI Guanghui, Vice President, Chinese Academy of International Trade and Economic Cooperation, Ministry of Commerce
KIL Jeong-Woo, Member of the National Assembly, Saenuri Party, 1st term / Trade, Industry, and Energy Committee
SASAKI Nobuhiko, Adviser, Tokio Marine and Nichido Fire Insurance Co., Ltd. / Former Vice Minister for International Affairs, Ministry of Economy, Trade and Industry
Presentation
LI Xiao, Professor, Economics School of Jilin University / Director, Sino-Japanese Center for Economic Studies, Jilin University
YOON Deok Ryong, Senior Research Fellow, Korea Institute for International Economic Policy
Presentation
[Session 2] Environmental Cooperation
How to save "us (CJK)" from the common threats of daily life trans-boundary challenges such as fine dust and yellow dust? How to institutionalize real measures for deepening CJK collaboration?
What are our lessons and experiences in solving air and water pollutions?
How to optimize green trade potential in the context of vitalizing the CJK FTA, reflecting the APEC summit agreement on lowing tariffs by 5% on environmental goods and services from 2015?
ModeratorKIM Sang-Hyup, Visiting Professor, Graduate School of Green Growth, College of Business, KAIST / Former Senior Secretary to the President
Presentation
PresentationsFUJIMOTO Kenichiro, General Manager, Head of Global Environmental Affairs, Department, Environment Division, Nippon Steel and Sumitomo Metal Corporation
Presentation
LI Liping, Deputy Director, Institute of International Environmental Policy, Policy Research Center for Environment and Economy, Ministry of Environmental Protection, PRC
Presentation(in Chinese)
MATSUSHITA Kazuo, Professor Emeritus, Kyoto University / Senior Fellow, Institute for Global Environmental Strategies
Presentation
ZHANG Haibin, Professor, School of International Studies, Peking University
Presentation(in Chinese)
CHUNG Suh-Yong, Professor, Division of International Studies, Korea University
HUAN Qingzhi, Professor of Environmental Politics, School of Marxism, Peking University
Presentation
Closing RemarksJIANG Ruiping, Vice President, China Foreign Affairs University
ParticipantsList
SummaryUnder construction