2016 Japan-Europe(JEF-ASPEN) Forum
| | |
| --- | --- |
| Date | Thursday, 7 July 2016 |
| Venue | Chambre de Commerce et d'Industrie de Paris |
| Co-hosted | The Aspen Institute France |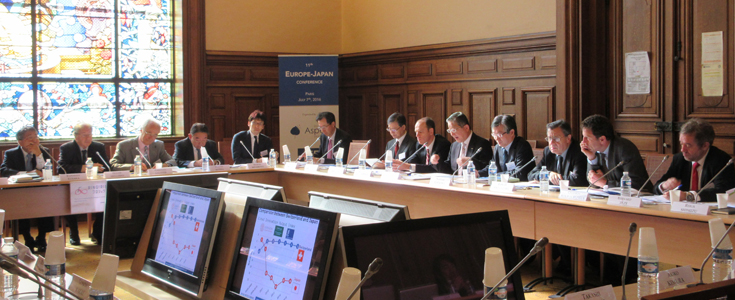 Japan-Europe Forum 2016More Pictures
ProgramEurope-Japan: Common issues, cooperative solutions
INTRODUCTIONSpeakersOlivier Mellerio, Chairman of the Board, Institute Aspen France
Kazumasa Kusaka, Chairman and CEO, Japan Economic Foundation
Christian Sautter, former Minister of Finance and Economy, Head of the Europe-Japan Conference project
SESSION 1 - FOSTERING YOUNG ENTREPRENEURS/ INNOVATIONKey questions-What are the reasons for success of young entrepreneurs / innovation?
-Any differences on this point between Europe and Japan?
-How can the regulatory, financial and educative environment support new entrepreneurs
ModeratorsRaphaël Hadas-Lebel, Conseiller d'Etat, Chairman of Aspen France Advisory Board
Naoyuki Haraoka, Executive Managing Director, Japan Economic Foundation
IntroducersToshiyuki Shiga, Vice Chairman, Nissan Motors
Presentation
Geoffroy Roux de Bézieux, Vice-President, MEDEF (Association of French Enterprises Bernard Tézé, Attorney and partner, DS Avocats
SESSION 2 - BACK TO ECONOMIC GROWTH?Key questions-Are Abenomics and European Stability mechanisms and growth strategy a proper answer?
-How to cope with long-term issues such as ageing of the population, energy and environment inequalities to achieve sustainable growth?
-Can we consider Japan as a possible future for Europe?
-How to cope with the slowdown of the Chinese economy?
ModeratorCaroline Ruellan, General Secretary, Aspen Institute France
Long Ke, Senior Fellow, Fujitsu Research Institute
IntroducersAkira Kojima, Chairman, World Trade Center Tokyo Inc.
Presentation
Jérôme Vignon, Economist, President, ONPES
SESSION 3 - COOPERATION IN EMERGING COUNTRIESKey questions-How can developed countries help economic development in Africa?
-Challenges of the COP 21 decisions with respect to emerging markets
-What new business development models can we propose in emerging markets?
ModeratorJean-Christophe Bas, President, The Global Compass
Akira Kojima, Chairman, World Trade Center Tokyo Inc.
IntroducersSachio Kaneki, Senior Vice President, Mitsubishi Corp.
Presentation
Valérie Terranova, CEO, Valérie Terranova International
SESSION 4 - BACK TO NATIONALISM IN FAR EAST ASIA AND EUROPE?Key questions-What are the moves toward nationalism in Asia? in Europe?
-The challenge of China, ( f.i. the AIIB development)
ModeratorKazumasa Kusaka, Chairman and CEO, Japan Economic Foundation
Olivier Mellerio, Chairman of the Board, Aspen France Board
IntroducersLong Ke, Senior Fellow, Fujitsu Research Institute
Presentation
Paul Jaeger, Managing Director, Russell Reynolds
WRAP-UP AND CONCLUDING REMARKSChristian Sautter, former Minister of Finance and Economy, Head of the Europe-Japan Conference project
ParticipantsList
SummarySummary (English)Summary (Japanese)
2016. JULY 2015. NOVEMBER 2014. JUNE 2013. JULY 2013. MARCH 2012. NOVEMBER 2012. FEBRUARY 2010. DECEMBER 2010. MARCH 2009. MARCH 2008. MARCH 2007. MARCH 2005. APRIL 2001. NOVEMBER